It's not every day you find exquisite neo-classical Palladian architecture surrounding some of the world's most important Roman remains. Book one of our Bath hotels today and admire the period elegance and Bath's array of unique sights and attractions.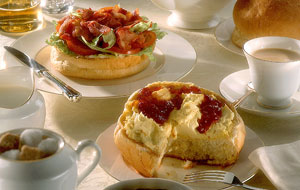 Each room offers a snapshot of what life was like for those who lived and worked at No.1 Royal Crescent in its Georgian heyday - original artefacts and furniture included. Once you've finished snooping around No.1, take stock of Royal Crescent and its amazing views.
Sally Lunn's Historic Eating House
Munching on a Bath bun at Sally Lunn's tea and eating house is like taking a bite of local history. The kitchen where the legendary Huguenot baker created this regional delicacy is now a museum.
Have a go at dressing up Regency style at the Jane Austen Centre. Bonnets, top hats, parasols and reticules await those who've dreamed of starring in a period drama. For everyone else, there are plenty of other Austen exhibits on offer.
Indulge yourself at Thermae Bath Spa, where you can relax and revitalise in natural, mineral rich thermal waters – just like the Romans did. It's the only natural hot springs spa of its kind in the UK.
Fans of arts and crafts will feel right at home at Bath Aqua Glass. Using traditional Roman methods, you can make your own glass beads, baubles and stained glass, or simply watch how the professional glassblowers do it. Don't forget to pick up a souvenir from the shop.
This museum celebrates Bath's vital role in the history of post with colourful exhibits, games and activities, storytelling and more. For the serious philatelist (don't worry, we had to look it up too) collectibles are in plentiful supply.
If you don't know how famous Bath is, you soon will after you've downloaded the Bath Movie Map and been 'on location'.
nextbike and Green Park Bike Station are two of Bath's cycle hire companies. Explore the city or venture along the canal into the countryside.
Head to Bath Boating Station, a charming base on the River Avon where you can hire Thames Skiffs, Canadian canoes and punts